Publication
Journal of Bone and Mineral Metabolism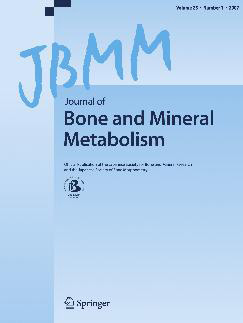 Journal of Bone and Mineral Metabolism (JBMM) is established in 1983. The JBMM is an official journal of the Japanese Society for Bone and Mineral Research(JSBMR) and provides an international forum for researchers and clinicians to present and discuss relevant issues in bone and mineral research. Recently, many leading scientists from USA, Europe and Asia participated in the International Advisory Board and submitted review articles.The impact factor in 2010 was 2.2. The JBMM is aimed at researchers and clinicians dedicated to improvements in research, development, and patient-care in the fields of bone and mineral metabolism.
Online Journal
https://www.springer.com/journal/774
Download to the full-text of the online journal will be charged. JSBMR member can download it for free.